Nissan Rocky Ridge Truck Package

If you want a customized Nissan Titan, Frontier, or Armada, Rocky Ridge Trucks is up for the task. Rocky Ridge Trucks is an SVM (Specialty Vehicle Manufacturer) that constructs upfitted trucks and SUVs that meet OE specifications.
With their strict manufacturing standards as well as an extensive list of factory and insdustry certifications, Rocky Ridge trucks gives you the chance to purchase a new customized vehicle directly from an authorized dealership, like Dorsett Nissan in Terre Haute, Indiana.
Customize Your New Nissan Truck or SUV
Depending on your base model, Rocky Ridge offers up to 4 different customization packages for their Nissan Vehicles. From lift kits and wheels to premium interior and exterior options, Rocky Ridge Trucks can customize your vehicle to meet your needs.
Some of the options available for an upfitted Nissan vehicle include:
Signature lift kits from 2.5" to 6"
17"- 20" custom wheels and 35"-37" tires
Dual exhaust with tips
Spray-in bedliner
Exterior Stealth Armour Coating

Each upfitted Nissan vehicle also keeps the original factory warranty in place, and Rocky Ridge provides an additional 5-year/ 100,000-mile warranty on Titan and Titan XD models or an additional 3-year/ 36,000-mile warranty on Armada and Frontier to cover Rocky Ridge- installed components.
Want to learn more about the custom lifted trucks and SUVs offered by Rocky Ridge Trucks? Call Dorsett Nissan at (812) 645-9601 to discuss the package options available through our dealership.
Ford Rocky Ridge Truck Package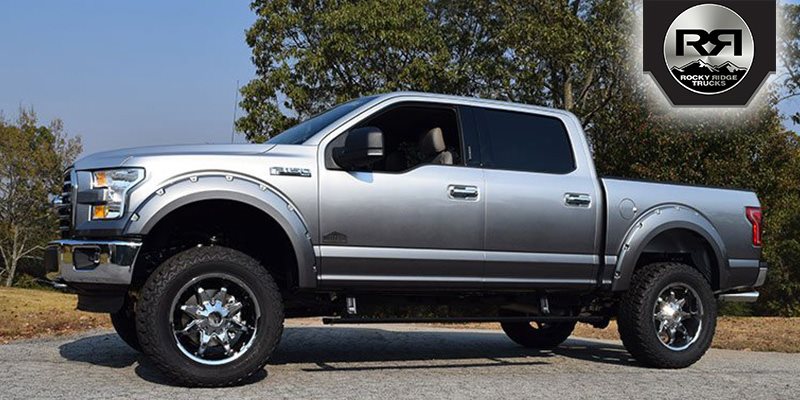 View Ford Truck Inventory
The advanced vehicle upfitter, Rock Ridge Trucks, meets Fords' SVM specifications to build custom lifted trucks and SUVs. Rocky Ridge has a direct manufacturer agreement, so you can purchase a new customized vehicle directly from an authorized dealership, such as Dorsett Ford.
Plus, each vehicle comes with Ford's Factory warranty, as well as an additional 3 years or 36,000 miles of coverage for Rocky Ridge Trucks components.
Attention to Details
Rocky Ridge trucks performs thousands of custom lifts every year, and each one is carefully crafted to maintain the same level of quality as Ford. They are certified through Ford's exclusive OEM bailment program and they've completed the Ford Specialty Vehicle Manufacturer (SVM) certification, so you can rest assured knowing your vehicle is receiving precise attention.
They offer up to 10 different packages to fit your vehicle, depending on the base model. The benefits to an uplift vehicle from the Rock Ridge Trucks include:
Signature lift kits from 2" to 6"
Custom tire and wheel packages
Custom leather seating
Spray-in bedliner
Stainless-steel dual exhaust with tips
At Rocky Ridge Trucks, they handle every part of the process on their 26-acre campus. Their technicians are dedicated to performing each part of the process to perfection with multiple stages of quality control to ensure your truck or SUV customization meets your needs.
Contact us to learn more about the Rocky Ridge Trucks packages available through Dorsett Ford.